Mobile Interpretation and the importance of Stakeholders
We've been lucky enough to have a workshop proposal accepted at Museums and the Web this year in San Diego. It's a workshop we'll be leading with Sandy Goldberg from sgscripts entitled "Bringing your Stakeholders Onboard: Delivering Vibrant Mobile Projects"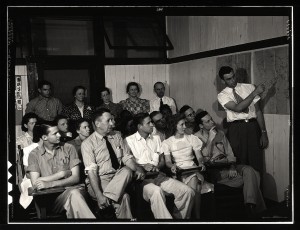 We planned the workshop, after a few clients had talked to us about the challenges they were facing pulling mobile projects together and facilitating the collaboration, which is so often needed. I'm pretty sure that most projects need some form of collaboration but it seems to be that in-gallery digital interpretation, and in particular mobile, needs input from a particularly wide group to ensure a successful roll out. We regularly work on projects that involve the input of as many as seven different departments and ensuring they all feel ownership of the project is a real challenge. And I've seen many a project that could have been transformed from poor to good or good to great with just a little more collaboration up front.
Getting the right people involved at the right time can often address those challenges faced at the beginning of a project:
How do we make sure we have the right information in there without being overwhelming?
How do we create the content and keep it up-to-date when we have little budget?
How do you make sure the technical system does what it needs to do?
Or, even more common, the questions that get asked once the system is up and running a while and the impact of decisions made at the development stage are playing out on the floor in the gallery:
How do we stop this negatively impacting on visitor flow?
What happens if the visitor has a problem, how can they get help?
How do we get more people using the system?
Staff are reluctant to promote the system because they are worried it will reduce shop sales/attendance at live talks
One of the toughest things in our experience is gauging when to bring people into the process and what level of involvement they should/could have.  We all enjoy the creative input of our colleagues but fear those huge brainstorming meetings where everyone goes around in circles o even worse, stakeholders holding up or derailing the whole project.
Here are a couple of ideas on how to work with your stakeholders. We hope you'll join us in San Diego to hear more.
Cast your net wide early on
At this point you may well have identified the broad vision or goal for the project. What you need next is support and to identify the parameters you'll be working within (refine vision, flush out challenges and boundaries, identify which teams we are talking about) Ensuring everyone is on-board with this focus/vision will make everything a lot easier later on. For example, ensuring that the audience is agreed on and any operational challenges of using mobile devices can help you to ensure that curators are giving you the right level of content when it comes to development.  Recently we worked with the Science Museum to develop a schools programme. Including the person who manned the phones and took the School bookings helped us to stay focussed on the needs of the teachers and how the project could be sold to them without putting them off with complicated talk of mobile technologies.
Make sure they are comfortable with the technology
We'd also suggest that everyone on the team is given access to a mobile device for a few weeks to see how they use it, what do they do on it, where they use it. The number of design meetings we have had where the leader of the group uses mobile ALL the time while the rest are unfamiliar and lack confidence is frightening.
Testing the Idea
Mobile experiences inside the museum succeed and fail more often on the practicality of operations than anything else and don't be fooled, this is as much to do with the pace and location of content as it is to do with signage. Midway through the process you'll want to start testing concept and – most importantly – asking the group you have involved to help you solve the problems using their expertise. This is where your visitor services and marketing teams will come into their own — ignore their advice at your peril!
Everyone Involved
Towards the end of the development process, involve as many people in testing as possible. Particularly volunteers and those who will come into contact with your visitors – the impact of engaging them and showing them how this mobile experience will benefit the visitors and fit into their daily lives will improve your take up rate more than any signs, websites or leaflets.
For more information about the workshop – have a look here: Museums and the Web 2012 (MW2012): Workshops