Victoria & Albert Museum, London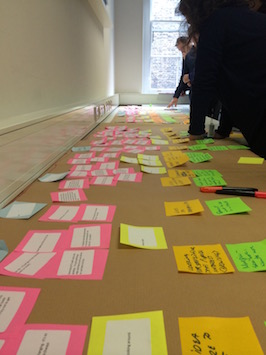 The challenge
The quality of visitor experience has been identified as key priority for the V&A. The digital and visitor experience teams asked us to carry out research with their audiences in order to identify whether there are elements of the visitor experience that could best (or better) be delivered digitally with a particular view on those opportunities that could deliver new business value to the organisation.
What we delivered
As part of the project, we:
Reviewed existing research and interviewed stakeholders to identify priority audiences and business objectives
Designed and carried out in-gallery qualitative research to understand the whole visitor journey for a specific priority audience
Carried out workshops with museum staff to identify opportunities and challenges for digital to support visitors more effectively
Co-designed activities to identify and shape digital concepts
The outcomes were:
By involving many different team members and departments in the research, we found that the research provided visitor experience insights across several different departments
The research helped the staff understand how they could leverage existing systems to deliver more value to visitors and the organisation rather than focussing on the development of a single digital project
The insights offered a new way of thinking about the interaction between staff and digital and re-framing of the challenges around wayfinding.