Weeknotes 27.2016 – narrated visits, co-analysis and trains
Current status: Sat at St Pancras station as I've missed my train back to Sheffield. Again. Slightly exhausted after back to back content strategy workshops made considerably easier by the incredible smarts of the National Gallery team. Anyway, we know how this works by now, so you'll hear about that next week. When my brain has processed it all.
For now though, last week.
Martha headed to Bristol for the weekend talking to visitors at the ss Great Britain about their visits, and also asking some to carry out "narrated visits". This is where we ask willing victims/visitors to take an audio recorder or gopro with them. We ask them to narrate their visit and allow us to listen into their conversation, see what they see and do. It's a tool we've used in several organisations – and always bears some great fruit. The chance to capture fresh impressions of a visitors experience is a priceless. The visitors as always were incredibly generous with their time (and their thoughts) Alyson is heading back to do the same this weekend as well.
A little bird tells me you may hear more about narrated visits next week too as Laura is currently conducting them at the American Museum of Natural History (AMNH) using a really interesting new software tool. Laura spent last week wrapping up a large scale survey at AMNH as part of our evaluation of their Explorer App. Lots of rich data and a great foundation for the qualitative research that's on tap for this week.
Meanwhile Alyson and I were continuing our work on the National Gallery. This included supporting Fabrique to refine the brand proposition, preparation for the content strategy workshops and a delivery on the journey mapping workshop.
This may be a little "inside baseball" as Laura calls it – but for those interested we've been carrying out a little co-analysis on this project and the journey mapping exercise is a good example of that. Co-analysis is when we provide data or partially synthesized data – this could be watching videos, listening to interviews or reading transcripts with the client team. We then design activities for the group to get from observations through to insights. We use it where clients are up for spending a bit of time getting to connect with their audiences. It's particularly useful when they are looking to move from research to action very quickly and when they are keen to build internal understanding of the audiences in real terms. No traditional presentation of a slide deck or an emailed pdf full of data here – thank you very much.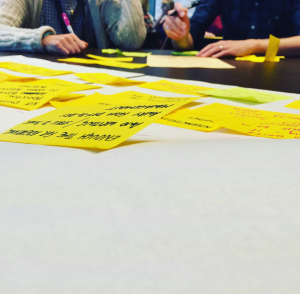 In this case, we were working with a cross-disciplinary groups made up of people from National Gallery, Fabrique and Applied Wayfinding. Each group had a persona – an outline of a person based on real data. They mapped out how each persona's experience of the gallery was shaped by behaviours, attitudes and motivations. We're at a crucial part of the project where we are exploring how branding, content, wayfinding and digital products and services work together to make up the visitor experience. For example, how does a visitor's perception of an organisation impact on how they navigate the experience and is this something that digital can and does help solve?
The outcome was a set of insights about the overall experience and specific moments in the visitor journey that impacted the most on their overall experience. To give an example, a common outcome of visitor journey mapping is to identifying when people need support to make a plan. As as museum professionals, we assume visitors start to feel they need a plan of the experience before or the minute after they walk through the door so that's where we provide the visit planning tools and services. However, a visitor's limited understanding of what's on offer can mean that they actually realise they need a plan much later on, typically when those tools and services are no longer available. Often the design of the building and experience then impacts where and when that particular "moment" of realisation happens too – making it even more complex. So in this example, the journey mapping helps us make insights into where and when visitors need for a plan really happens, why it's happening and the impact of it happening on the rest of their experience. Once we have that, we can then understand if that's something digital could and should help with. But that's next week…
So, I'm off to catch my train – it may include a gin and tonic in a can – in the meantime here are the links that have been keeping us thinking this week…
Mark Carnall with a post after our own heart on "ten important questions museums need to ask when embarking on a digital project" https://fistfulofcinctans.wordpress.com/2016/07/05/digital-huh-what-is-it-good-for/
A report on the impact of an immersive approach to teaching literacy with Punchdrunk https://issuu.com/hackneylearningtrust/docs/prosperosisland_summary_issuu
The Museums Journal on trends in museum games http://www.museumsassociation.org/museums-journal/features/01072016-trendswatch (with a brief appearance from Martha)
This month's Creative Review is ALL about the Future of the Museum https://www.creativereview.co.uk/cr-blog/2016/june/cr-july-issue-the-future-of-the-museum/
Some very interesting approaches to diversifying audiences https://www.artsy.net/article/artsy-editorial-how-3-museums-are-growing-and-diversifying-their-audiences
Sorry to hear that Matthew Caines has left Guardian Culture Pros network and it sounds like it's winding down. Good luck with future projects Matt https://guardian-registration.s3.amazonaws.com/email/lnI-7g-lTZmTVXtQCuYOzg.html