Week 28: Capturing visitors expressions, content strategy and feeding the data beast
It only dawned on me today that week 28 means we're over half way through the year. However, it feels like a decades worth of things of happened. For us, week 28 was crammed – providing some healthy distraction from staring (read: gaping numbly with mixture of frustration, sadness, anger and what-the-hell-ery) into the news hose.
Looking back in… joy?
Laura spent last week in New York at the American Museum of Natural History conducting research with visitors by recording their visits while they used the Museum's new mobile App.  Normally we would use goPro cameras mounted to the devices to record the voice and interactions on the screens. However, this time we are trying the Lookback software platform.
Lookback is embedded in the app – capturing the screen, voice, face, touches and clicks. So no more additional hardware to drop, kick across the floor etc and get to see what the users are they are looking at and what their reaction is to it all at the same time. Important when you're testing heads up experience. We're constantly striving to get data that shows a full experience so for us this is a great way forward.
Laura is just beginning to review the AMNH footage but she reports that so far, the recordings are a revelation – providing us with the depth of understanding that can only come from hearing a visitor's comments, while watching their actions on the screen and seeing the expressions of frustration, surprise and delight on users face (and not just when you help them by helping to calm their fussy baby)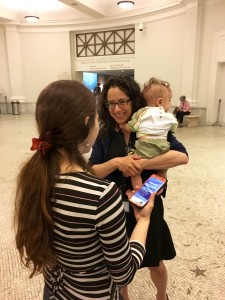 Must feed the data beast
Last week Martha was listening, reading and starting the synthesis for all the visitor narrated content she collected at ss Great Britain. Then, Alyson spent last weekend gathering even more. If you're not careful the data monster can NEVER be fully fed. In this case, though, more is needed – we're looking for a 360° view of their target audience.
Creating a content strategy (that doesn't get filed at the bottom of someone's drawer)
Alyson was also leading on two back-to-back content strategy workshops for the National Gallery. I joined her as trusted sidekick and chief awkward question asker. For the uninitiated, a content strategy is about planning, design and maintenance of content either written or in other media too. Or put more simply, a plan to make sure that you are talking in the right way to the right people at the right time.
Our overall goal for this part of the project is to avoid the whole "big document that no-one thinks works and gets carefully filed at the bottom of someone's drawer" strategy in favour of a "living, breathing, owned by the people who will use it" kind of strategy. So when it came to exploring the processes and principles, tone and voice we've workshopped with the teams to develop a set of shared definitions of what those things really look like in concrete actionable terms.
This led to an excellent game of "tone and voice" bingo and activities where the team bravely measured current content against their new brand voice and suitability for target audience.
Cultural Orgs Links
A thoughtful article on the need for empathy in museums – https://artmuseumteaching.com/2016/07/11/the-urgency-of-empathy-social-impact-in-museums/
Interesting resource on migration crisis and museums – personally I'm wishing for more of these things please… 
https://museumsandmigration.wordpress.com/
A great  interview with the community and social media producer at the Met. She also runs Black Contemporary Art tumblr and Instagram account
http://www.lennyletter.com/culture/interviews/a173/meet-the-instagram-star-elevating-black-contemporary-art/
Why a chief experience officer is key role to have as part of a cultural organisation
https://medium.com/@shell7/why-a-chief-experience-officer-matters-735aba0a88d1#.yctfiyojv
Technology Links
An article that might resonate with a few – Do we really need an app that lets us brew our coffee from anywhere?
http://www.nytimes.com/2016/07/10/opinion/sunday/solving-all-the-wrong-problems.html