Week 30.2016: the SFMOMA app and who should talk about art
I recognise that if you normally receive our weeknotes by email then you've only received one on Tuesday and now you have another – so sorry about that. (If you aren't receiving them by email but you can sign up)
We left you as we were preparing for design sprints at the National Gallery. We were going to give a rundown of what we learnt but we'll save that for a separate post because on Tuesday we found ourselves quoted in a Wall Street Journal article about the new SFMOMA App. Yey – we thought. We're in the press, we thought. I even rang my Mum. But…
"In future iterations, SFMOMA would do well to rely more consistently on its own curators for cogent, pungent audio commentary. Frankly, Green + Webb, a cultural-consultancy engaged by SFMOMA to evaluate its Rauschenberg Research Project, says that museum visitors respond best to "specialists—curators, artists and others—[who are] valued for sounding knowledgeable . . ., for 'owning' the information, and being passionate," in the words of its 2014 research report on mobile content. That SFMOMA felt a need to engage these outside consultants at all bespeaks the museum's peculiar hesitancy to fully credit the judgment of its own experts."
Hmmm we thought. Should we respond? As a very wise person pointed out it's hard to take any article seriously that uses the term digerati un-ironically. Also we're in danger of sounding incredibly defensive.
And yet, it feels like we should take that risk. Why? Because – as our name suggests – we value speaking frankly and the article is inaccurate.
The research Lee Rosenbaum quotes is from a study looking at mobile content carried out for the National Gallery in London and published in 2014 for the Museums and the Web conference.  What that paper actually says is:
"…listeners were very critical of dry, dull narration: monotonous delivery, a failure to sound as though they 'owned' the information and overly formal delivery were all unpopular.

In contrast, specialists – curators, artists and others – were valued for sounding knowledgeable and relaxed – authentic – for 'owning' the information, and being passionate and interesting to listen to. Lack of professional 'polish' in their presentation wasn't an issue. Nor did participants distinguish between Gallery experts and external contributors – both were welcomed – but they did want to know who was speaking. Particularly when the speaker was from outside the Gallery they wanted to know why they were hearing from them: what value – expertise, perspective – were they bringing? Commentaries that failed to introduce speakers effectively were heavily criticized."
In other words our participants valued a very wide range of perspectives on the art including – but not limited to – curators.  
We have worked with the brilliant team at SFMOMA twice.  The first, as Rosenbaum says, was an evaluation of the Robert Rauschenberg Project – an online scholarly catalogue.  The second was during the development for this app. SFMOMA wanted to create an experience for a local repeat audience and they wanted to bring together a cross-departmental team to look at what that might mean.  So we facilitated a series of workshops.  They really wanted to understand that audience and provide something that worked for them.  We advised them that local repeat audiences typically don't use audio guides – in making something for this audience, they would need to make sure the mobile offer didn't look or sound like a typical audio guide!
The SFMOMA app takes some risks in new formats – like guided audio walks that connect a series of artworks by theme and feature voices from outside the museum – in an effort to connect with local visitors who might not typically visit a modern art museum or use an audio guide. And the preliminary data from Detour, the makers of the app, show that SFMOMA's audience focus and calculated risk taking is actually delivering with visitors. The audio walks are the most popular content on the app and the data suggests that visitors are very engaged in  the audio walk content even though the walks are considerably longer than the stops on individual artworks.
We believe in the value of research as part of a design process. We want to see more of it. It's why we do what we do and try to share as openly as we possibly can. It helps us avoid repeating the same old mistakes and make informed design decisions. It helps us identify where to focus our creative energies and how to manage risk so that we can deliver what is valuable to our organizations and valued by our audiences. We are sad to see our work misquoted in order to criticize SFMOMA's efforts to connect with its local audiences.
We'll come back to the National Gallery design sprint in a future post but this note from the briefing seems especially apt right now: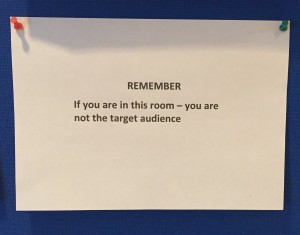 In other news, Martha has been away posting wonderful food photos and writing excellent posts about Pokemon Go!
Laura is still busy coding and analyzing recorded visits from the American Museum of Natural History – it takes a long time to make sense of 17 hours of video footage. She's also moved into prototype development on the family story collecting initiative for the National Museum of American Jewish History using The History Project platform.
And we were delighted to see our research on the Metropolitan Museum of Art's audio guide highlighted in this new report on digital transformation in the museum industry produced by Axiell and Museums and the Web.